Greatest Whitetail Deer Hunting in the Midwest 
IOWA  –  PIKE COUNTY, ILLINOIS  –  MISSOURI  –  KANSAS  –  OHIO
In 2012 IMB Outfitters will be offering what is believed by experts to be the greatest whitetail hunt package ever presented to deer hunters. Isn't it time you went on the greatest whitetail hunt ever at a reasonable price? IMB is located in 5 States in the Midwest, and clearly setting industry standards for quality whitetail outfitters. IMB is in Iowa, Pike County Illinois, Kansas, Missouri, and Ohio. IMB Outfitters has been inducted into North American Whitetail's Hall of Fame, IMB is ranked in the top 44 hunts in the World by Petersen's Hunting, been in business for 13 years, and sponsored by over 3 dozen of the hunting industries top companies which include Mossy Oak, Nikon, Mathews Bows and more! In 2012 IMB is presenting a hunt package on land that is simply unmatched by any other Whitetail Outfitter in the Midwest. Come check out our packages and see for yourself.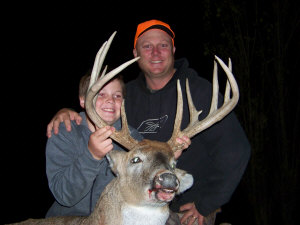 170 Inch Missouri Buck harvested in 2011  by 13 year old boy.
Visit:  www.imbmonsterbucks.com
Choices for Whitetail Deer Hunts with IMB Outfitters: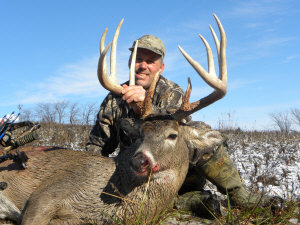 Iowa deer hunting in Zone 5 continues to bathe in the limelight of being the greatest deer hunting in the World. In fact, in 2011 all gun seasons ran in excess of 100% shot success rate and all archers killed a record book buck. NOTE: When success rates exceed 100% that simply means we had more shot opportunities to kill record book whitetail bucks that we had hunters in camp. Pike County Illinois deer hunting is the #1 County in the Nation for the number of entries in the record books. Missouri deer hunting is in the 7th year of an antler restriction and is coughing up the biggest bucks in the Midwest as the biggest sleeper state of all. All nonrut, prerut, rut, 1st Rifle, 2nd Rifle, and Late Muzzleloader produces success rates above 100% on trophy bucks. Our Northeastern Kansas ground in 2012 is nothing short of awesome, and may perhaps be the place to bag your next Boone and Crockett Whitetail Buck. Kansas is the #1 location for added entries into the Boone and Crockett Record Books last year. Ohio was new to IMB as we entered 2011 on virgin deer hunt ground in its Golden Triangle. While deer populations are lower, because Ohio is a "Shotgun/Muzzleloader Only State" it holds some of the largest deer in the Country. You can choose from a variety of locations and prime hunting land, simply contact IMB Outfitters for more information.
CALL TOLL FREE: 866-855-7063
Group Discounts and First Class Service:
With group discounts and customized pricing upon request our rates are very competitive in an effort to provide anyone with the opportunity to hunt with what hunters and leading outdoor companies claim to be the best whitetail outfitting service in the nation. Don't miss out on this year's hunt package offered at IMB Outfitters by purchasing a hunt from anyone less. Awesome lodges, great food, comfortable treestands, intelligent guides, the best land tracts, virgin land tracts, low pressure stand setups, etc.
Success Rates:
On average over the past 13 years IMB Outfitters has sported possibly the highest success rates in the Midwest. We have averaged success rates at less than 30 yards at trophy whitetail deer in excess of 120%. Simply put, we have provided more shots at record book bucks than the number of hunters taken during that time period. Some hunts have sported success rates exceeding 200%. Our customer satisfaction rate over the past 13 years has soared in excess of 95%, according to client surveys.
Contact Us:
IMB Outfitters located at http://www.imbmonsterbucks.com has proven to be the most solid, affordable choice in the entire Midwest for trophy whitetail deer and turkey hunting. Our variety of packages offers a hunt for any enthusiast. Come check out why IMB Outfitters is absolutely the Best in the Midwest!