Hunting the Dream
By: M.R. James
JUST RELEASED …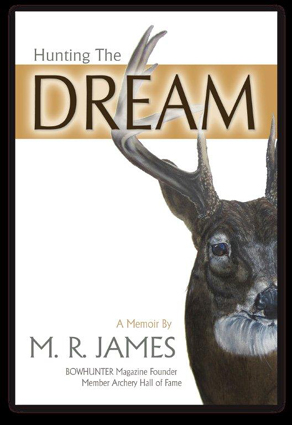 Tells the behind-the-scenes story of a man, his magazine, and the memorable adventures that have entertained, informed, and inspired readers for half a century.
Copies of the brand new M. R. James memoir,Hunting the Dream, are just beginning to roll off the presses. Be among the first to own a signed copy of this much-anticipated book from an award-winning author, who founded Bowhunter magazine in 1971 and in 2003 was inducted into the Archery Hall of Fame as its 54th member.
Hunting the Dream features 325 pages, plus a special 8-page photo section. Its 34 chapters are complemented by nearly 100 b/w photographs. The book features three separate divisions: Part I, "The Early Years"; Part II, "Following Dreams"; and Part III, "Gray Dawns, Golden Sunsets." And while this book reveals the inside story of one noted hunter's long life and career, it also chronicles an American family, shares the story of a magazine's amazing success, and relates numerous adventures from an outdoor writer whose artist's eye for detail and descriptive prose combine to guide readers on a shared journey that will be long remembered after the book's final page is turned.
And while this sometimes funny, sometimes sad M. R. James book will be of obvious interest to his fellow hunters, it also is certain to resonate with a diverse audience. Any man or woman who shares a strong sense of family, an unashamed love of wildlife and wild places, of good friends and good dogs and good storytelling, will enjoy the journey. Simply stated, this is an eminently readable, fascinating real life tale. Discover its appeal for yourself and then help spread the word. For more please also go to: www.mrjamesbowhunter.com
Signed paperback copies cost $25 each ($27.50 if shipped to Canada), including postage and handling. All books are mailed within 5 business days. Also, checks or money orders are welcome and should be sent to Blue Jay Books, P. O. Box 1, St. Meinrad, IN 47577.
Collectors interested in purchasing a signed/numbered limited edition hardcover copy should contact the author at MRJames12640@aol.com. Details will be promptly provided.
Continental U.S.

$25 includes postage & handling

Canada

$27.50 includes shipping & handling





For orders outside of the continental United States or Canada, please contact the author for a custom price quote including shipping and handling to your area.
NOTE: Hunting the Dream is also available as an illustrated eBook volume. Copies are available from Amazon.