Bowhunting.net
New Products
BowKaddy Also Mounts Inside Truck
By
Apr 28, 2006, 10:20

Bowkaddy Cab Mount - Yes, it CAN go Inside Your Truck!
I have had several people ask me if Alaris Concepts offered a bow rack for inside their pickup. Never having considered this application, the quickest response was usually, "I'm sorry, but no." Bowkaddy was originally designed for the box of pickups. Since its release, though, the product has found niche applications on ATV's, Argos, boats, workbenches and even wheelchairs! And now, I'm happy to announce that Bowkaddy also works very well INSIDE vehicles!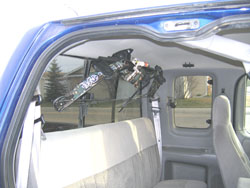 There are a few considerations when mounting Bowkaddy inside vehicle cabs. The most important one is location selection. It is recommended that Bowkaddy only be mounted in extended or crew cabs so as not to interfere with front seat occupants. Vehicle roofs generally have two layers of metal with a varying space gap between them. This design offers structural rigidity as well as a place to route wiring and HVAC in the vehicle. It is also good for hardware mounting.
Before drilling any holes in the roof, be sure to put your bow in Bowkaddy and position it in the approximate location of choice. The best spots offer adequate bow clearance from windows and doors yet keep the bow tucked neatly out of the way of passengers and other equipment. Additionally, you want to minimize the obstruction in your rear-view mirror.
At this point, confirm that the base location is free of wiring and has at least 3/4" of space between the metal panels. If there is less space than this, you run the risk of puncturing the top panel. You must also be able to use at least 3 of the 4 lag bolts provided to secure the base. Using less than 3 fasteners will make the base unstable.
At this point, the Bowkaddy base can then be detached for the physical installation. Using the base as a template, mark the holes and drill through the first metal layer with a 1/4" metal bit. Use the 5/16" lag bolts, flat washers and lock washers (all provided) to secure the base to the roof. Be careful not to overtighten. Bowkaddy can then be re-assembled and your bow inserted. You'll notice that the bow above is positioned "string-down" while the bow in the photo below is positioned "string-up". This is accomplished by simply swapping the left and right swing arms.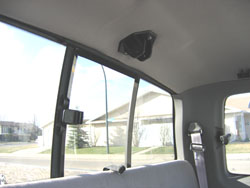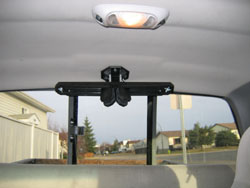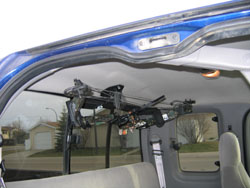 Conventional mounting (truck beds, ATV's, etc.) offers excellent bow security due to gravity and the friction in the rubber-lined clamps. In this situation, however, gravity is working against the bow rack due to its upside-down orientation. As such, it is necessary to use a pin in each clamp to keep the limbs from falling out. Shown in the photos below are 1/4" x 1 3/8" linch pins (not included) and work very well for this purpose.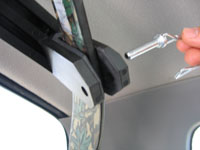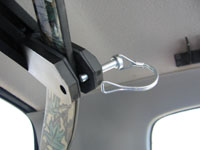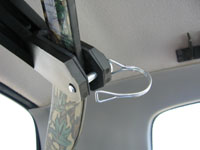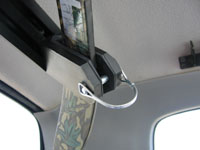 For questions concerning this or any other installation visit:
Alaris Concepts.
© 2004-2006 Alaris Concepts All Rights Reserved
© Copyright 2005 by Bowhunting.net